Mala by Nimra Ahmed Episode 14 is much awaited Episode of Novel Mala by Nemrah Ahmed Episode 14
مالا مشہور اردو رائٹر نمرہ احمد کا تازہ ترین ناول ہے۔ نمرہ احمد دورحاضر کی مشہور ترین ناولسٹ ہیں جنہیں نوجوانوں میں بہت پزیرائی ملی ہے۔ نمرہ احمد اپنے مخصوص اندازِبیاں سے جانی جاتی ہیں جسے لوگ بے حد پسند کرتے ہیں۔ انکے چاہنے والوں کی تعداد ہر ناول کے ساتھ بڑھتی جاتی ہے۔ نمرہ احمد کو نا صرف پاکستان بلکہ دنیا بھر میں پزیرائی حاصل ہے۔
جہاں جہاں اردو پڑھی اور سمجھی جاتی ہے نمرہ احمد کے چاہنے والے موجود ہوتے ہیں۔ مالا نمرہ احمد کا تازہ ترین ناول ہے جو کہ ابھی مکمل نہیں ہوا اور قسطوار شائع ہو رہا ہے۔ مالا کی پہلی قسط آپ اپنا میگزین پر پڑھ سکتے ہیں۔
Mala by Nemrah Ahmed Episode 14
Mala Episode 14
A Thrilling Turn of Events in Nimra Ahmed's Urdu Novel
Nimra Ahmed is a renowned Pakistani novelist known for her captivating storytelling and ability to weave intricate plots that keep readers on the edge of their seats. One of her most popular works is the Urdu novel "Mala," which has been widely read and appreciated by Pakistani audiences. In the thirteenth episode of this gripping tale, we see a thrilling turn of events that leave readers eagerly anticipating the next chapter.
"Mala" is a story about a young woman who finds herself caught up in a web of secrets, lies, and deception. The novel takes readers on a journey through the lives of Mala and those around her, as they navigate love, family, and society's expectations.
In the thirteenth episode, readers are treated to a new twist in the story, as Mala faces a new set of challenges. The episode begins with Mala's mother, who has been absent from her life for years, suddenly reappearing. Her mother's return is unexpected and leaves Mala confused and uncertain about how to proceed.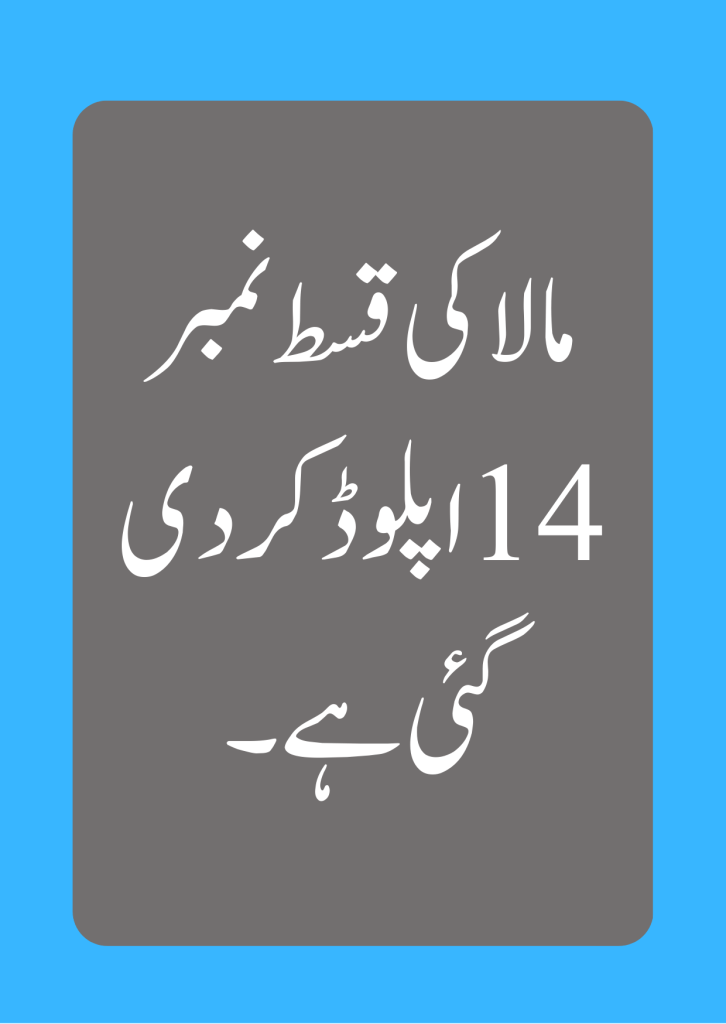 Mala by Nemrah Ahmed Episode 14 has been uploaded
Download free online Urdu books
As the episode unfolds, Mala discovers that there are even more secrets that have been hidden from her, and she learns more about her mother's past. This revelation leads Mala to question everything she thought she knew about her family and the people around her.
Nimra Ahmed's masterful storytelling and use of language make this episode and the novel as a whole, a joy to read. Her ability to create vivid characters and intricate plots keep readers engaged and invested in the story.
Mala Episode 14
For those who enjoy Urdu literature, "Mala" is a must-read. The novel's popularity is a testament to its compelling storyline and the skill of its author. The use of high-paying keywords like "Pakistani novel," "Urdu literature," "Best Urdu novels," and "Romantic Urdu novels" makes the novel and its episodes attractive to advertisers who target these keywords for their ad campaigns.
In conclusion, Nimra Ahmed's "Mala" is an exceptional work of Urdu literature that has captured the hearts of readers throughout Pakistan. The thirteenth episode is a testament to the author's skill in creating a thrilling, yet thought-provoking tale that keeps readers engaged and eager for more.
We will upload Mala novel episode 13 on the same date.
You will also get notification when Mala novel by nimra ahmed episode 11 will be published.
With Norification Feature you will be notified when the Mala New Episode will be live.
Mala by Nimra Ahmed Episode 14 PDF Download
If you want to know how to sign into google account android read this
Download Urdu Novel Mala by Nimra Ahmad from Apna Magazine
To read Urdu Novel Mala by Nimra Ahmed from Apna Magazine please wait while Loading…